What skills are required to be an Electric Vehicle (EV) Engineer?
December 2, 2022
2023-09-06 14:34
What skills are required to be an Electric Vehicle (EV) Engineer?
What skills are required to be an Electric Vehicle (EV) Engineer?
The Automotive Electronics' dynamics is metamorphosing. Through the years it has transformed from being peculiar about mechanical engineering to becoming electronic subsystems specific. Major countries are now commencing to shift from conventional IC engines to Electric Motor-driven vehicles. To which, Josh Boone , executive director of EV advocacy group Veloz quoted "This is one of the biggest transformations since the industrial revolution, and it's not just transforming what powers the car".
With electric vehicle sales predicted to reach 45 million worldwide by 2040, the next twenty years are set to dramatically change the automotive market.
This shift in the automotive industry is breeding a lot of potential for disruptive improvements in this field, which makes this one fact obvious: there is a lot of demand for talented and industry-ready engineers. Major companies like Tesla, Mercedes Benz, Porsche, BMW, Tata Motors, Mahindra & Mahindra Ltd, Maruti Suzuki, Hero MotoCorp Ltd, Bajaj Auto Limited, Toyota Motor Corporation, Honda, Ford along with many others are hiring at huge numbers. In the coming years, engineers with no cross-domain skills to have a foothold in the changing automotive industry will be on the verge of losing their jobs. In this blog, you will learn how to be ready to take full advantage of this ongoing transformation.
The frontier of electric and self-driving vehicles demands a workforce of engineers trained in Al and robotics. EV engineering requires experts from Different streams of engineering: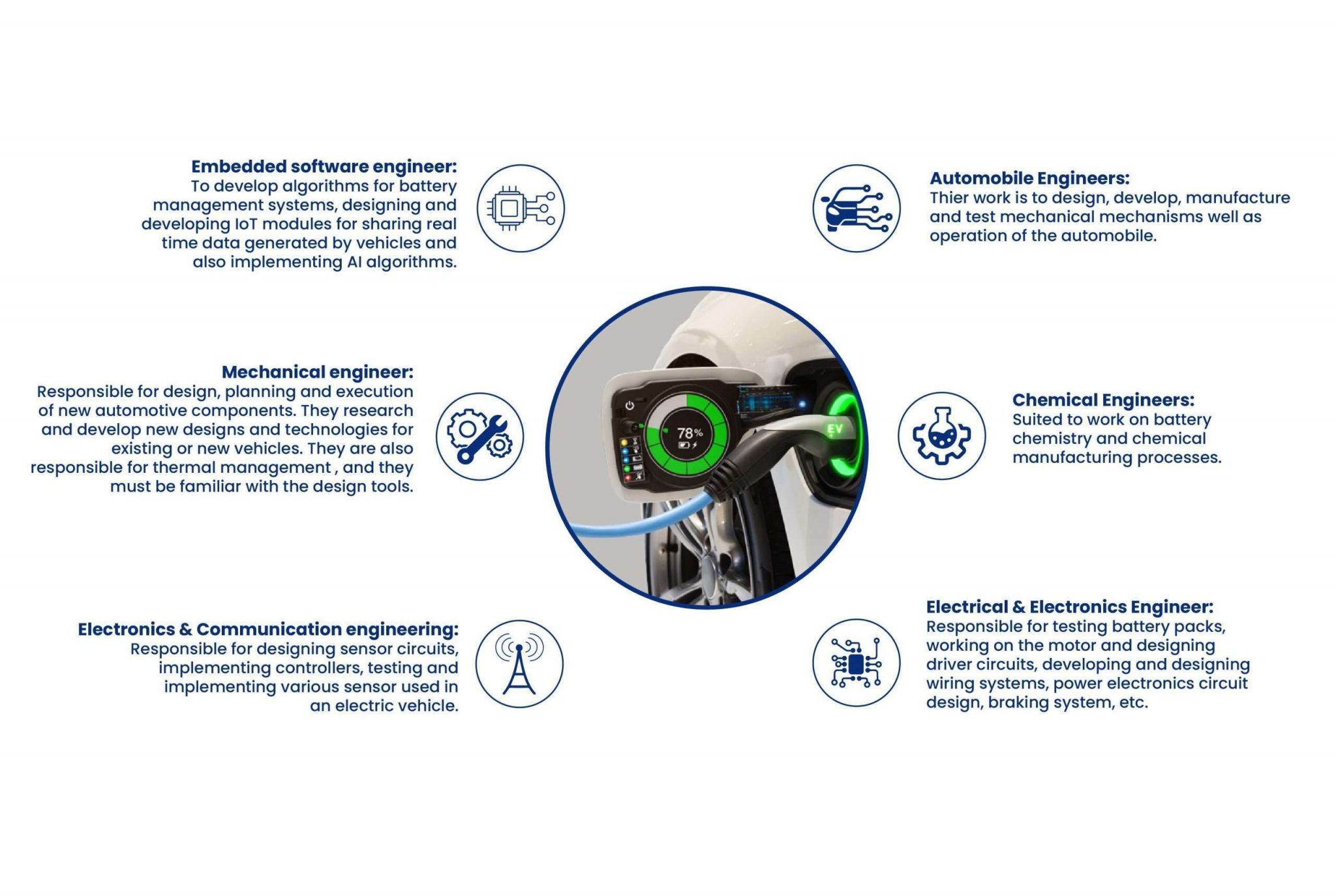 This is the reason why Mechatronics Engineering (multi-disciplinary branch of engineering that focuses on the integration of mechanical, electronic and electrical engineering systems, and also includes a combination of robotics, electronics, computer science, telecommunications, systems, control, and product engineering) is gaining traction when it comes to hiring fresh graduates for the EV industry.
Skills Required to be an electrical vehicle engineer :
Cross-domain engineering skills: This implies implementing and managing modeling and optimization methods and tools, which are integrated in a systemic approach.
Subject Matter Knowledge in a broad spectrum of technologies like : 
Electric Powertrain Controls and their features
Matlab, Simulink,
Vehicle Mechanics,
Vehicle Architecture,
Electric Motor Design,
Battery Engineering and Battery Management Systems,
Vehicle & System Integration,
Testing, Validation, and Certification process used in Electric Vehicle Design,
Sensing & actuation technology,
Signal/Image processing & Data fusion
Embedded C programming and ECU knowledge
CAN and related protocol knowledge
Control system development,
Model-based design:
Gain a thorough understanding of prototypes, which includes hardware design, software development, EMC compliance, and functional testing.
Embedded product development including in-vehicle and outside-vehicle deployment of various data networking protocols.
System-level thinking: to understand how AI, robotics, software, and other technologies interact with one another.
Problem-solving, analytical, and creative abilities.
How to skill yourself to have a successful career in the EV industry:
The best approach is to pursue a B. Tech degree in Mechanical Engineering with a specialized focus on Electric Vehicle and Manufacturing.
Learning software's used in the automotive industry: AUTOSAR, MATLAB, AUTOCAD, Helix QAC, Simulink, PLECS, TSPICE, Altair Embed, Altium designer, Ansys Maxwell and other branch-related softwares like C, Python etc.
Internships: They help you gain valuable work experience of the field you wish to work in and build your skillset
Live training sessions: The key element here is that it allows you to interact with the mentor which allows a greater comprehension of the subject matter
Attend webinars: Attend free webinars that are conducted by professors or experts who are working in the automobile industry. They will share their experience of working in the EV sector, take notes and figure out what will be in your best interest
Work on various projects on EV like (a) Fast charging station for an electric vehicle. (b) Solar charging station for electric vehicles. (c) Multi-level inverter for electric vehicles (d) Regenerative braking system in a vehicle with minimum switching loss. (e) Anti-lock braking system (f) Vehicle control system for autonomous driving (g) Battery monitoring and control (h) Active cell balancing (i) Passive cell balancing
Contact people well-established in the industry: ask them the skills required to get a job in EV industry and then work on developing those skills
Online courses: You can enroll for online courses on electric vehicles and get certified.
Tata Technologies Limited (TTL) is a global product engineering and digital services company focused on fulfilling its mission of helping the world drive, fly, build, and farm by enabling global OEMs and their ecosystem of partners across the automotive, industrial machinery, aerospace, and adjacent verticals engineer, manufacture, and realize better products, as well as help them drive efficiencies in their businesses. We have over 25 years of engineering experience in industrial and mechanical design software, electrical mobility, ADAS, PLM, Cybersecurity, etc. We are a global team that enables our client's and their engineers to dynamically prepare for the future of Electric vehicle technology.
We are building best-in-class ACES courses with the best industry experts and some of the largest manufacturers around the world in order to produce the doyens of the all-electric future.
Talk to our experts on how we can help with Electric Vehicle engineering training needs today.
Reminder –
If you like this blog please share it using the below share this post button.