Campus Program
October 15, 2022
2023-01-21 4:00
Campus Program
Engage Program
EngAge is Tata Technologies program to train & certify students and make them Fit4Industry
Programme to engage choicest engineering institutes of India to certify & produce "Industry Ready" students, through a blended mode of learning, covering domain skills to reduce the skill gap, promote upskilling, & enhance overall employability of students.
Background
Job readiness & lack of current skills needed by the industry remains a major concern for engineering graduates and organizations. A rapid change in technology and trends increase this gap further.
India on a surplus size with huge talent base
This is the gap between the 'growth in demand' and the 'growth in supply' of talent. Red indicates the trend deficit, green a trend surplus, yellow a broad balance. India has a capacity to meet the global deficit of talent, provided we prepare our graduates for this challenge.To address this gap a strong collaboration between academia and industry is needed to ensure there is constant exchange of ideas & students are trained in skills required by the industry.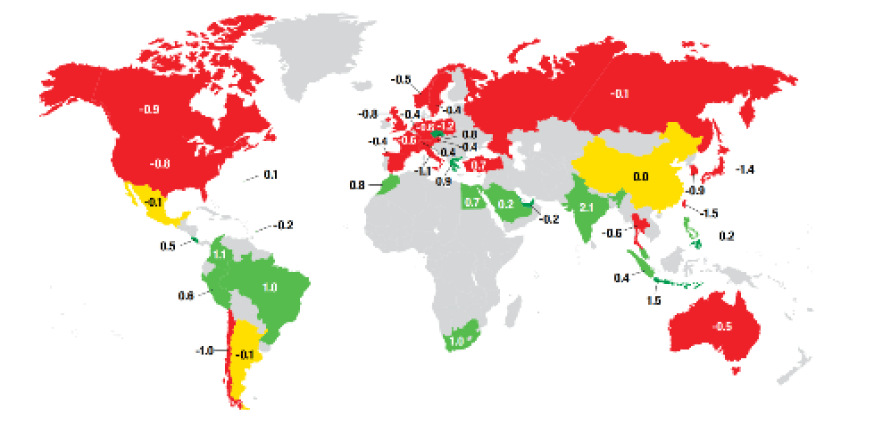 Only 20% Engineering Graduates are employable
97% graduating engineers want jobs either in software or core engineeri
3% have suitable skills to be employed & 7% can handle core engineering tasks.
Only 10% of the engineers from Tier 2/3 city colleges are employable.
40% do not have basic quantitative skills required for entry level engineering jobs.
Industry spends 1 Billion USD/year in training them for the job.
Engineering syllabus lacks application oriented content w.r.t. tech development.
Lack of experienced and qualified Professors in the colleges.
Lack of innovation & research attitude among the engineering students.
Lack of English communicative, analytical and quantitative skills
Limited hands - on training on the problems encountered in the industry.
Lack of skill - based education.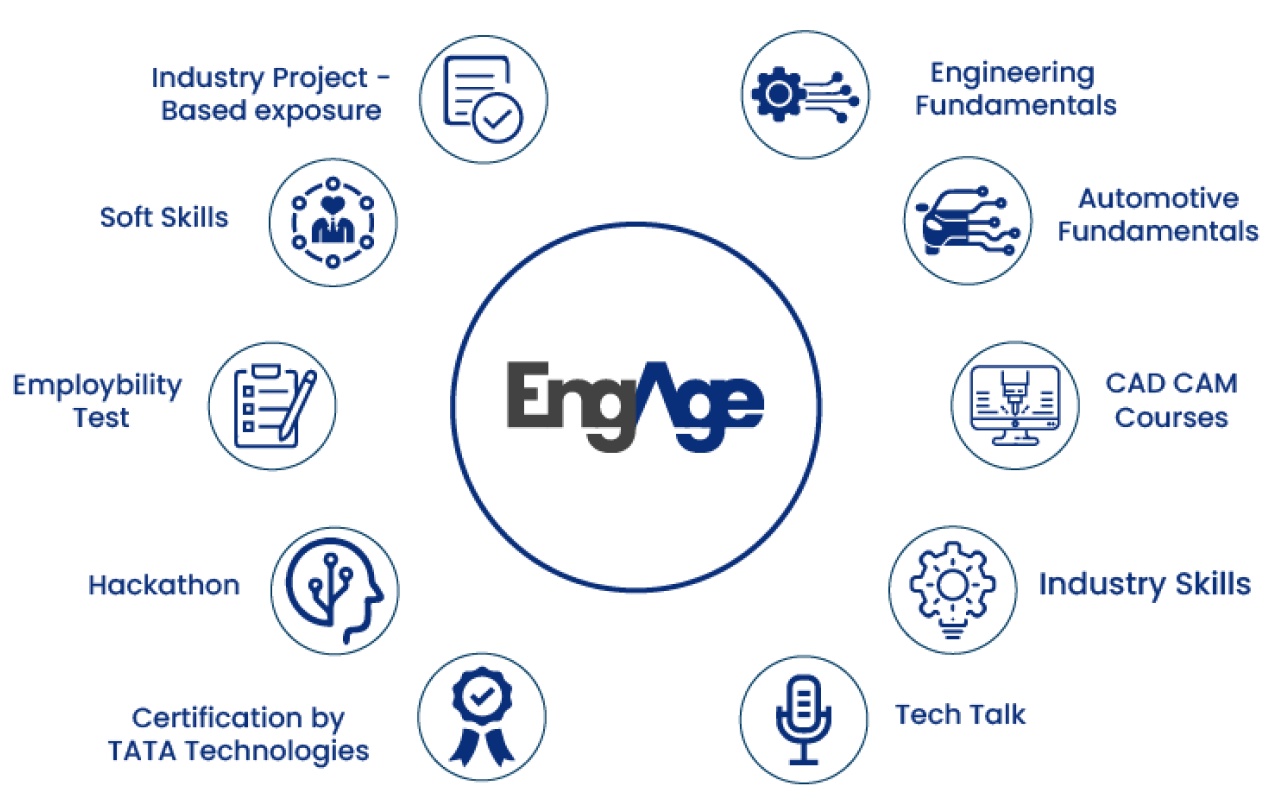 EngAge
with Tata Technologies
EngAge is Tata Technologies program to train & certify students and make them Fit4Industry
Engineering College/University with NAAC Accreditation
Colleges with specialization in Mechanical/Automobile/Indusrty/Aerospace Electronics/Electrical Engineering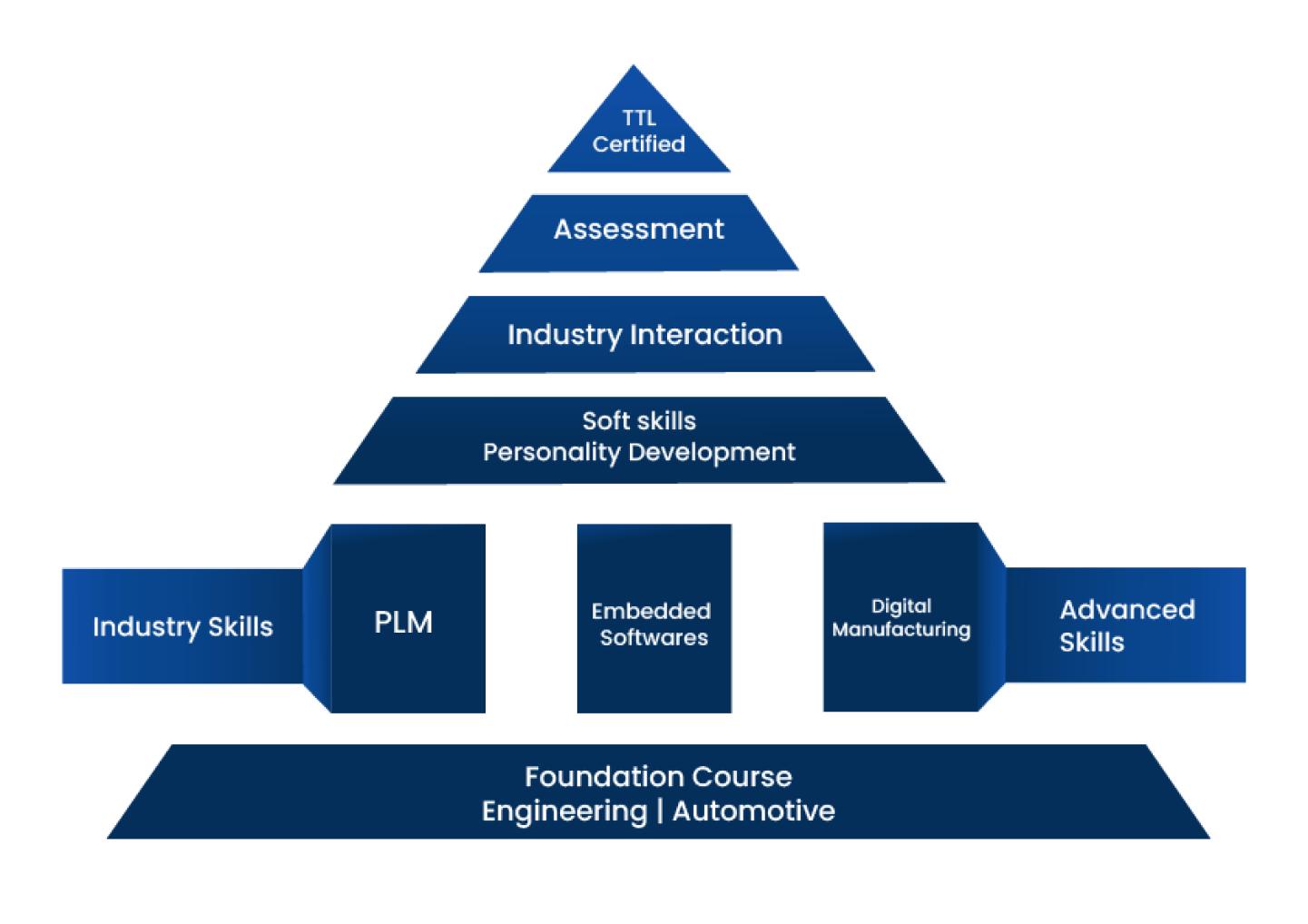 Easy Steps To Get Started
Certifying Engineers for the new age.
Lets engineer a better world for everyone
#Come join us #Engineer a better world